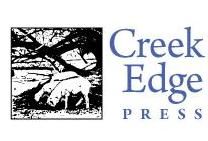 We got selected to review for
Creek Edge Press
through the TOS Crew. To be honest, I had not heard of Creek Edge Press prior to this opportunity, but I am so glad that I have now.
Creek Edge Press is a company, created by a homeschool mom named
Amy Kate Hilsman
, that creates educational task cards. The cards are made up around a specific subject. With in these task cards are activities that were designed around some of the best ideas from the Charlotte Mason, Classical and Montessori education styles. Let me break it down little further....(from the Creek Edge Press website)
Classical – The tasks point to key vocabulary that students will use in future years of study. The tasks encourage students to read, think, and respond. The research tasks facilitate a habit of reading for detail, preparing the grammar stage student for work in the dialectic stage.
Charlotte Mason – The tasks rely on narration, in a variety of forms, as a primary means of response to reading and listening. The student encounters meaningful ideas and beautiful expression within the materials chosen for study.
Montessori – The parent prepares a learning environment and the student engages in research tasks indicated on the cards. While the topics on the cards are specific, the tasks are purposely open ended to allow for individual investigation and response at the student's pace.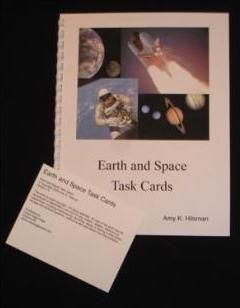 Creek Edge Press' goal was to create an affordable tool that pulls together the best of these educational styles that would create a discovery based, research oriented, independent learning environment. The task cards were designed with students in grades Kindergarten through 8th grade.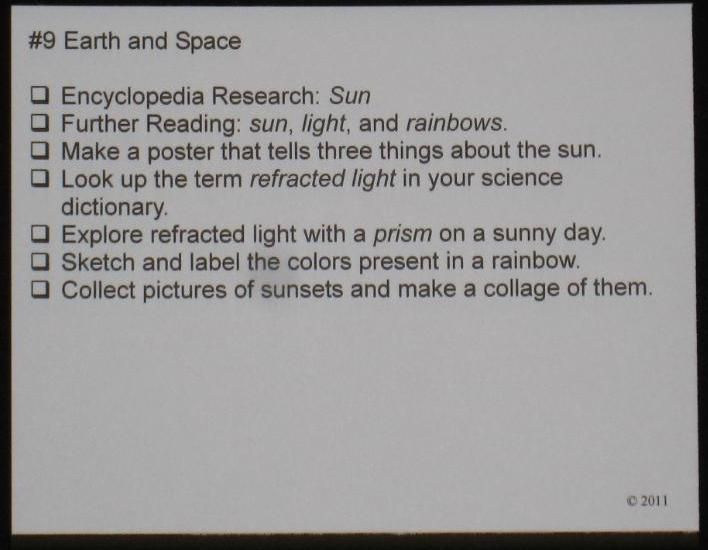 We were given the choice between History, Science or Geography task cards and we chose the Earth & Space Task Cards. I LOVE, LOVE, LOVE these task cards! What a fabulous idea! I love how they are laid out with 4-9 tasks per card. She suggests that students complete 1 task card per week (which seems quite reasonable to me) but there is plenty of room for flexibility.
Like I said, we chose Earth and Space science. I think this was a good choice. Let me share a few of the suggested activities through out the 35 Earth & Space Cards:
Encyclopedia Research
Making information booklets
Making Posters & Collages
Vocabulary Words
Clay Models
Sketching Ideas
Mapwork
Suggestions for Further Reading
Topics for Narration
In addition to the task cards, we received the included task card manual that explains the ideas behind the task cards and how to use them. How to prepare the environment fort he task card approach as well as a
book list
(living books, yippee!)
I know that I already said it but again, I really LOVE these cards! I have been trying to get my girls a bit more independent and these cards have been one of the tools that I have been using : ) I just think the task card approach is a wonderful idea! The ideas and book suggestions are great. In the future I would love to purchase or review the History Cards, I bet they are really neat too.
Did I mention how affordable these cards are?
To purchase the Earth & Space Task Card along with the Manual the cost is only $18.00.
The subjects that Creek Edge Press currently has task cards available for are:
The task cards vary in price from $18.00 -$90.00, the most expensive being a Complete History Package.
I have to admit, the task card approach has made me want to really reconsider my curriculum choices for next year because I like them so much!
You can see what other members of the TOS Crew think about Creek Edge Press
HERE.
We received the Earth & Space Task Cards from Creek Edge Press at no charge for review purposes only. We were not compensated in anyway nd the opions expressed here are my own.