We live on a pretty busy street, so I am always concerned about my little guys when they play out front. Many, many times have I told them about the dangers of our busy street. I do not believe that anything I have said to them has come close to grabbing their attention like the book Look Left, Look Right and Look Left Again by Ginger Pate.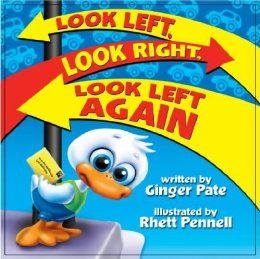 Look Left, Look Right and Look Left Again, published by Greene Bark Press, is a cute, informative board books that teaches street safety. Wally Waddlewater, an adorable little duck, learns about street safety around cars, stop lights, emergency vehicles and balls in the street. He learns to look left, look right and to look right again, when crossing the street.
This simple story has stuck with my little guys, my youngest now recites part of the book whenever we go to cross the road.
This book is for children ages 3-8, both my 5 and 7 years old boys both enjoyed it.