Doorposts is a company that we have known, loved and trusted for quite some time now. Their Bible Based Parenting and Character Training materials have been a blessing to us.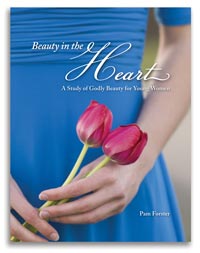 The Beauty in the Heart is a Bible study for young ladies, about 12 and up, that was written by Pam Forester. The goal of the study is two fold, to focus on a girl's heart, and not just their outward appearance while showing young ladies the importance of true godly beauty. This study also focuses on teaching Bible study skills.
We received the soft cover booklet, there is also an eBook available in PDF form, which is 128 pages long. The chapters are as follows:
Beauty in Submission: An Inductive Study in 1 Peter

Beauty in the Heart: A Verse Study on 1 Peter 3:3-4

Beauty in Trusting God: A Character Study of Sarah

Beauty in Humility: A Book Study of Esther

Beauty in Modesty: A Verse Study of 1 Timothy 2:9-10

Beauty in Serving: A Word and Topical Study

Beauty with out Discretion: A Verse Study of Proverbs 11:22

Beauty in Crisis: A Chapter Study of 1 Samuel 25

Beauty in the Gates: A Book Study of Ruth

Beauty in Review
Also included are alternate questions for young men that are doing the study. I thought these were very helpful if you were to do this study as a family.
As you can see this is a meaty study! Through this study children learn to use a concordance and marginal study notes. They study specific topics and characters to show examples of the godly beauty that we should adorn.
I had the Lil' Chef use this study for her personal Bible study. At first she was a little over whelmed with the different things involved in the inductive study. I encouraged her to stick with it. As with most things, once she got used to the study she did fine, and is moving along quite well.
Each chapter is broken down into 7 Days of study. In Study 1, Beauty in Submission, the week breaks down like this:
Day 1 Pray and Read
My daughter read the entire book of 1 Peter and answered several questions about it.
Day 2 Observe
Here she was asked to answer who, what, when, where, why and how questions from select passages. She studied the background of 1 Peter and did some highlighting in her Bible.
Day 3 Organize and Observation
This part of the study had her charting some of her observations from her study done the previous day.
Day 4 More Observation
She answered several questions, like What did Jesus do? What did Jesus NOT do? Why did Jesus act this way?
Day 5 Interpret
Here she defined several words from her study, like submit and subjection.
Day 6 Interpret and Apply
This part taught her clue words that helped to interpret what she was reading, like therefore, so and likewise. Explaining these clue words, and going back over the previously read scriptures really helps a reader's understand.
Day 7 Conclusion and Application
To wrap up this study, the reader answers several questions from certain passages like, What does Peter tell the reader to do? Then readers are to pray and summarize what they have learned through this study.
Not every study flows exactly like this, but I thought this would give you a general idea of how the study is laid out.
This study would be perfect as an independent study for a young girl aged 12 and up. It would also be an excellent bible study for girls to work on in a group setting, or as a mother/daughter study.
I highly recommend this study. The godly examples that are studied, like discretion, modesty, trust, humility and service, are the character traits that we need to instill in our girls.
You can purchase your own copy of Beauty in the Heart, A Study of Godly Beauty for Young Women
through Doorposts for $14.00
There is also a study for young men called Because You Are Strong, A Study of Godly Strength for Young Men that was written by Daniel Forester. It teaches young men to use their strength wisely for God's glory while reading about the lives of David, Samson and other "mighty men of valor." It is also available for $14.00
Click to read more reviews from the Schoolhouse Review Crew!