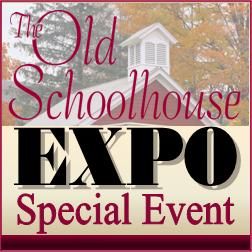 The

Schoolhouse Expo

is coming up!
August 19-23, 2013
1:00pm-8:00pm (Eastern) /10:00am-5:00pm (Pacific)
While all of the speakers and topics look great, there are several on my "be sure not to miss these" list. Here they are...
Monday
Marie Rippel - Effective Teaching Methods for Struggling Learners
Evonne Mandella - Organic Multi-Media for Homeschooling Families
Barbara Beers - Spelling, Grammar, and Latin, Oh, MY!
Antony Kolenc - Five Common Mistakes Homeschoolers Make
Tuesday
Kim Kautzer - The Lazy Child
Tami Fox - Homeschool Encouragement
Molly Green - Frugal Living
David Stelzl - Starting a Business in High School
Ray Comfort - Living Water
Joaquin Fernandez - Calling All Christian Homeschoolers to Love Their Neighbor's Children
Wednesday
Andrew Pudewa - Teaching Boys & Other Children Who Would Rather Make Forts All Day
Jessica Hulcy - Multi-Level Teaching
Todd Wilson - Taming the Techno Beast – Parenting in the Internet Age
Thursday
Terri Johnson - Facing the Giant... Homeschooling Through High School
Deborah Wuehler - Power, Prayer, and Perseverance!
Hal and Melanie Young - Shining Armor
Friday
Davis Carman - Give me one Good Reason to Homeschool
Malia Russell - Homeschooling Through Times of Transition
Dr. Jay Wile and Diana Waring - Textbook Myths and How to Deal with Them
Even though I really want to hear ALL of the above listed topics, life is busy and I know that is probably not possible. I am so happy that the Schoolhouse Expo recordings are included in the price of your Expo ticket. The links are available after the expo week is complete. YAY!!