For history this year we have been focusing on early American history. I have been excited and blessed to be able to teach my children the heritage of our nation from a biblical point of view.
To go along with out studies, we requested to review
The Pilgrim Story
from
Dayspring Christian Academy
. Dayspring Christian Academy is a
Principle Approach
School, based in Pennsylvania, whose goal is to teach according to biblical principles for the purpose of America being the restored to it's original heritage. Their belief is that...
By educating ourselves and our children in the biblical principles that formed our nation and affect every aspect of our lives, we will once again see

America
as "one nation, under God."
Dayspring Christian Academy recently launched an online, self paced, interactive class called The Pilgrim Story. This class is offered as a six month online subscription, geared towards children in grades 3-6. The Pilgrim Story teaches children about the foundation of our great nation. With this course, children learn the true history of the Pilgrims from a providential point of view.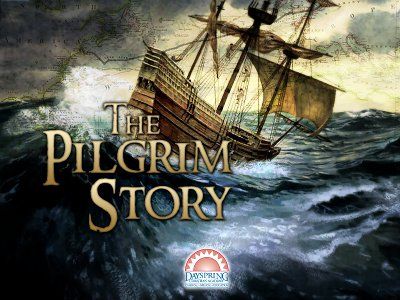 The Pilgrim Story offers 17 lessons. Some of the lessons included are:
King Henry
Geneva Bible
L
iberty of Conscience
Leaving Leiden
Conditions on the Mayflower
Building Christian Character
The Mayflower Compact
plus many more
The Pilgrim Story's online video lessons, which are in the form of interactive, narrated, slide shows, can last anywhere from about 30-45 minutes to complete. In addition to the video lessons, there are many activities to go along with each unit. There are crafts, map making, application, vocabulary words, live action and a virtual field trip to Plymouth, MA at the end of the course.
We are enjoying The Pilgrim Story. The lessons are engaging and enjoyable for the children. For mom, I am glad to rest easy that the history lessons that they are getting are truthful and biblically sound. We also like that there are book suggestions at the end of the units.
The Pilgrim Story has the children putting together a notebook for their note sheets, activity and vocab papers and any other worksheets that they complete.
The Pilgrim Story is currently available for $99
. Your purchase includes full access, at anytime, for six full months. Access to the course begins about 48 hours after your purchase.
We look forward to continuing to use The Pilgrim Story along with our current history studies.
Please take a peek at other reviews from TOS Crew members!
Disclaimer: We received a six month subscription to The Pilgrim Story at no charge in exchange for a fair and honest review.