We love the Sugar Creek Gang, but until recently we had only watched the movies. The kids and I were both pretty excited when we found out that we were going to get to review some of the
Sugar Creek Gang audio books!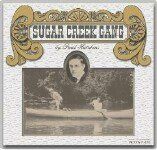 Beloved Books
sent us Volume 1 of the Sugar Creek Gang series, written by evangelist Paul Hutchens. Included in this 12 CD set are the following books:
The Swamp Robber

The Killer Bear

The Winter Rescue

The Lost Campers

Chicago Adventure

The Secret Hideout
This wholesome series chronicles the adventures of six young boys. The books are written from a Christian point of view, which I love, love, love! As we listen to these dramatized stories we are learning Christian values like faith and courage. I appreciate that amid the stories are hymns, scripture and most importantly the gospel.
All of my children (ages 11, 9, 6, 4), as well as myself, really enjoy listening to these stories. Even though the stories were written some time ago, it didn't both us at all. The story lines keep everyone interested and wanting more! I would like to add that both my boys and girls equally liked the stories.
The Sugar Creek Gang audio series has 6 Volumes in all which covers all 36 books in the series. Each of the stories is about 2 hours long and the whole series is over 100 hours on 72 CDs. Each of the volumes are available for $54.95. You will save $50 if you purchase all 6 sets for $279.70. These stories are great for all ages and would make fabulous holiday gifts!
If you use the COUPON CODE - SUGARCREEKGANG-20 you will receive 20% OFF your ENTIRE ORDER!!!
If your still not sure that the Sugar Creek Gang audio books are for you,
you can listen the first story The Swamp Robber for FREE!
See what other TOS Crew Members have to say about the Sugar Creek Gang Audio Series
.
Disclaimer: We received this audio series at no cost to us in exchange for an honest and fair review of the product.