CapJaxMathFax
game we were all over it!
CapJaxMathFax is a learning game that allows children to learn their math facts from the beginning all the way to mastery!
Here's what I liked about the program:
This program is suitable for children as young as kindergarten all the way up to adults.
CapJax allows the student to work on addition, subtraction, multiplication, division or any combination of them at once.
The students progress is recorded and their skill level is automatically set accordingly.
The children like the positive feedback after getting a correct answer.
They also like that they can earn merit badges!
Progress and scores are kept for each child so I know where they are and what they need to work on.
They like being timed so that they can beat their last score.
I like that this is a one time purchase.
I like that it is affordable. It's only $29.95 to download the CapJaxMathFax. This purchase covers up to 10 users.
It is a math drill that all the kids can use.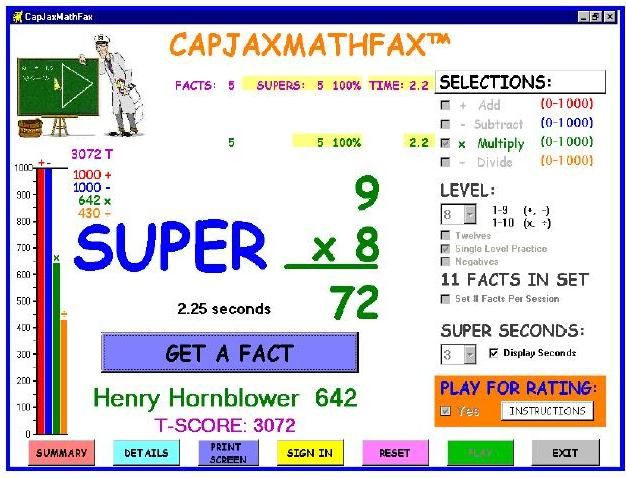 I do think that this is a good program to learn and practice math facts, and I would recommend it. It's affordable, it keeps track of the students progress and
it gets the job done!
I would say that it is best suited for children that like are motivated by beating the time, high scores, and word of praise. If you are looking for something with a lot of cutesy characters and fluff this might not be the best choice.
Disclaimer: As a member of the TOS Crew, I received this product, at no cost to me, in exchange for my honest review. All opinions are mine