Let me just start out by saying that I love
Apologia.
I have used and read several of their products and not once have I been disappointed.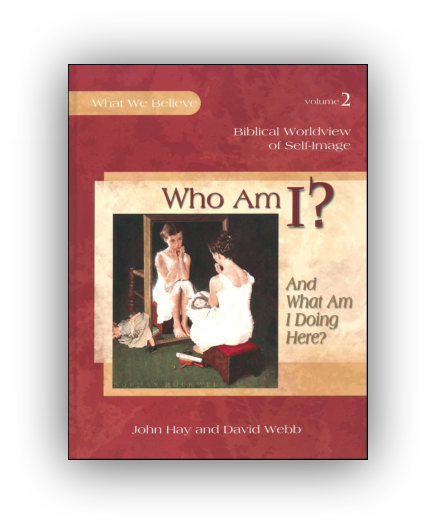 So we were very excited to find out that we were going to be reviewing for Apologia again. We received the
"Who Am I?" book
from Apologia's "What We Believe" series. Along with the book we also received the "Who Am I?" Audio CD, Notebooking Journal and Coloring book.
The
"What We Believe" series
was created when Apologia teamed up with Summit Ministries to create a family friendly apologetics series to teach our children the fundamental beliefs of the Christian faith. This series is directed towards families with children aged 6-14.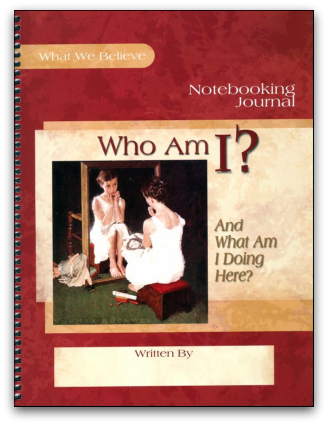 Like the Apologia science series, the books in the "What We Believe" series books are hardbound and have wonderful pictures inside.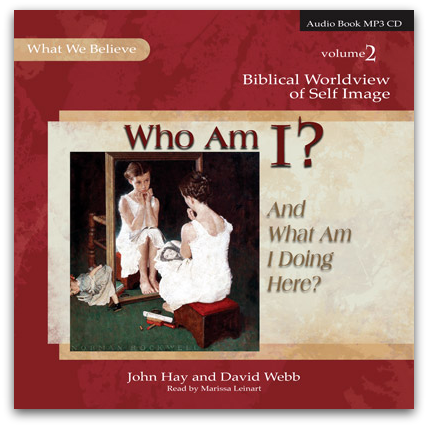 The Lessons in the "Who Am I?" book are:
What are we doing here?

What will you make today?

What's on your mind?

Can you trust your feelings?

Will you choose wisely?

How will you run the race?

What kind of fruit are you growing?

Who do you think you are?
Each lesson is about 30-40 pages long and is broken down into about 15 or so very manageable parts. There are very specific instructions in the front of the book as to how they suggest you go about teaching the lessons. I really appreciated them laying out a structure for me. They also have made the lessons very flexible to meets the needs of individual families.
The lessons are structured so that they each give a main idea, learning objectives, a short story (we really like these), thought provoking questions, vocabulary words, memory verses, character traits to follow, prayer suggestions and discussion questions. These lessons are spread out through several sessions.
The "What We Believe" Series consists of 4 books:
Volume 1 - Who Is God? (And Can I Really Know Him?) which focuses on Biblical Worldview of God and Truth
Volume 2 - Who Am I? (And What Am I Doing Here?) which focuses on Biblical Worldview of Self-Image
Volume 3 - Who Is My Neighbor? (And Why Does He Need Me?) which focuses on Biblical Worldview of Servanthood
Volume 4 - What On Earth Can I Do? which focuses on Biblical Worldview of Stewardship and available Later in 2012
"Who Am I" is actually the second book in the series that we have. We also have the "Who Is God?" book, coloring book and notebooking journal. After listening to the Audio CD for this book, I had to order the 1st CD as well. Lord willing, I plan on getting the entire series.
I love that we can sit and listen to the Audio CD, the narrator has a nice soothing voice that is very pleasant to listen to. I feel like I am always reading to the kids, which I love to do, but it is nice for mom to be able to just sit and listen too!
The Notebooking Journals and Coloring Books are awesome too! The Notebooking Journals have so many awesome things in there, they are so cool I think I want one for ME! There are questions to answer, cross word puzzles, places to copy scripture, lots of spots for writing your own thoughts down and mini books too. The mini book pieces are in the back of the book that can be pulled out, created and glued into their appropriate spots - VERY COOL!
You would think that the coloring book is just for my little guys but that is not so, my girls love to color as well. All of my children (AGES 3-11) can use the coloring book but I feel that the Notebooking Journal is definitely for my girls (3rd and 6th graders).
I love the "What We Believe" series and I really think you will too! It is a great family teaching tool. A wonderful investment that your family will truly benefit from.
You can purchase your own "Who Am I?" book, as well as other materials from the "What We Believe" series, directly through Apologia. The "Who Am I?" prices are as follows:
We were given the "Who Am I?" book, audio cd, notebooking journal and coloring book for review purposes only. Please know that the opinions stated here are my own and I was not in any way persuaded by the company or the free product
.