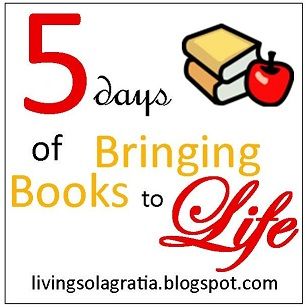 Trying to decide what I wanted to write about for the TOS Crew's 5 Days of Series was pretty easy. We love to read! Reading to my kids, it is my favorite part of our day. So, for the next five days I will be writing about Bringing Books to Life.
To start with, I thought it would be fun to come up with some fun ways to incorporate food and cooking into the books we've read. Everyone likes to eat, right? I know my kids like to eat and they ALWAYS want to be in the kitchen, so these are mostly ideas to do WITH the kids in the kitchen after you've read a book.
Most of our family read alouds seem to fall in the historical fiction category. These books are very easy to cook or bake something to tie into the time period. For instance, if you've just finished reading
Detectives in Togas
a Roman Feast would be the ideal way to tie food into the book. We just finished reading
The Door in the Wall
so a Medieval Feast is in our near future. Next year we read about Pilgrims and the Mayflower we will eat some the things they ate.
You can bake a cake to represent your book. Our library actually has a contest every year called Devour a Book. You can make a cake that looks like the cover of your book or just a cake that represents it.
If your book takes place in another country eat the food that they eat! My girls just finished up
Treasures of the Snow
with their book club. Since it takes place in Switzerland, for the last meeting they had Swiss chocolate and Swiss cheese fondue, among other things. They loved this!
Picture books are fun to cook or bake from, here are a few ideas:
Green Eggs and Ham
- make g
reen
eggs and ham! (as much as I am opposed to food coloring I would splurge for this one)
Blueberries for Sal
- make blueberry syrup, pancakes, muffins or cobbler
Diary of a Worm
- make a
dirt cake
The Snowy Day
or any other snow related book - make a
marshmallow snowman
Cloudy with a Change of Meatballs
- make homemade meatballs and have spaghetti and meatballs for dinner.
One Fish, Two Fish, Red Fish, Blue Fish
- eat goldfish snacks. Let the kids help you make fish sticks for lunch or fish fillets for dinner.
How to Make an Apple Pie and See the World
- make APPLE PIE!
You get the picture, there are lots of things that you can do to tie food into a book.
Be creative and involve your kids!
I am by no means saying that things should be done daily or even weekly. They should not be an added burden, just something fun to throw in when you can. We don't always get to this kind of thing with everything else, but we really enjoy it when we do.
5 days, 65 bloggers, 325 blog posts!
Check out what others on the TOS Crew are writing about for the 5 Days of Series
here
.
What do you do to Bring Books to Life?