We have a great educational game to tell you about. We received
The Reading Game
to review for the TOS Crew.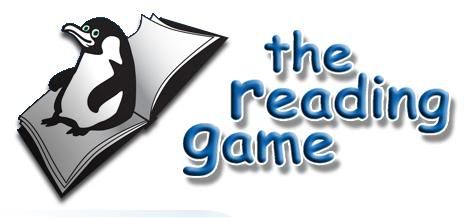 The Reading Game is, just as it's name implies, a game to help children learn to read. It is a fast action memory card game that incorporates storybooks to make learning more fun.
The game is for 2 players, ages 4 and up. It includes 6 decks of cards, each of which coincides with a different storybook, as well as a parent/teacher guide.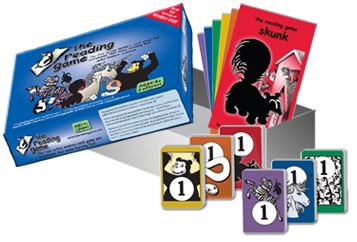 The Reading Game is played like memory, the cards are laid face down and players take turns flipping over two at a time to make a match. While flipping over the cards and making matches players are to read the words aloud, the parent initially reads the words out loud to the child but the children do eventually memorize them.
Each deck has 6 levels of word cards. The game is gentle in my opinion, it doesn't throw all 180 new words at a child all in one sitting. For instance, we start with the cards that go along with book one first, that is the skunk book. Level 1 for the skunk book has 5 new words to learn and once those have been mastered you move to level 2 which introduces 5 new words. Once you feel the child has memorized their new words you can have them read the test sentences in the parent/teacher guide just to be sure they are really ready to move on.
After completing the whole series the student will have a reading vocabulary of 180 words. Children will learn words like:
about

after
back
bark
by
can
cat
clock
day
dolphin
even
flower
girl
glide
honey
hop
house
play
rabbit
shower
toad
treat
tree
what
where
zebra
After moving through the 6 levels of the skunk card you child should then be able to read the skunk book on their own. Of course they love this and it helps to build confidence in their reading : )
Over all my feeling on this game was good. I think The Reading Game is a fun game that is reasonably priced. It is a simple and enjoyable way to practice reading. Like I already said, I really feel like it helps to build children's confidence with their reading. The Reading Game would make a great addition to your phonics program and could be a great way to help a struggling reader.
I have been playing this game with Alpha Boy. He does seem to enjoy it and is good at memorizing the words. He is not reading the books yet, but we are getting there.
You can purchase The Reading Game directly through Allsaid & Dunn for $24.95 plus shipping and handling.
Please take a moment to see what other members of the TOS Crew are saying about The Reading Game.
We received The Reading Game at no charge for review purposes only. The opinions stated are mine and I was not compensated in any way.