I have another great review to share with you from the TOS Crew. Have you ever heard of SpellingCity.com? It is a great website that helps the kids with, you guessed it, their spelling words. This website is loaded with
super fun games that the kids beg me to play
great educational games to help the kids learn to master their speling words.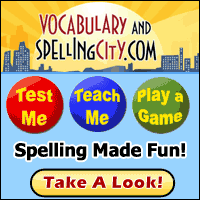 Here is how it works, first you enter in your child's spelling list and then SpellingCity.com teaches it to your child. Let me give you an example, if one of their words is
tent
this is how SpellingCity.com would teach it...
They would say the word - TENT
They would then spell the word - T-E-N-T
Then you would hear it in a sentence - The campers slept in a canvas T E N T.
After going over their spelling word, the kids can go PLAY THE GAMES! The Lil' Chef and Computer Girl both LOVE
Hang Mouse
. Of course Hang Mouse is like Hang Man, but much
more fun
! The
Letterfall
and the
Crossword Puzzle
are also favorites. Several of the games not only focus on the spelling of the words but also the meanings. SpellingCity.com really does make learning your spelling words much more enjoyable!
Then once they have had their fill with all the fun games, you can even give them a
handwriting printout
for them to practice, practice, practice! The more they write, see and say their spelling words, the easier it will be for them to remember them.
Ok, so now it is the end of the week, your kids have their words down pat and here they come "Mom, can you give me my spelling test?!" If you are anything like me you may respond with, "Hang on, I am right in the middle of something." OK moms, have no fear, SpellingCity.com is here. Your darling little children can do their spelling test right online and it even gets graded! Does it get any better than this?? I think not.
The moral of the story is, SpellingCity.com is a super great resource for homeschoolers and teachers and parents. They offer their basic services at NO COST, but their Premium Service is $24.95 per year. The premium service tracks activities of up to 5 students, records their test results, and offers has premium games like Speedy Speller and Letter Fall. Well worth the small fee, in my opinion.

Please know that we received this product free of charge for review purposes. The opinions stated in this review are our own and we were not paid in any way.